Bella X Stryker puppies were born on April 26th!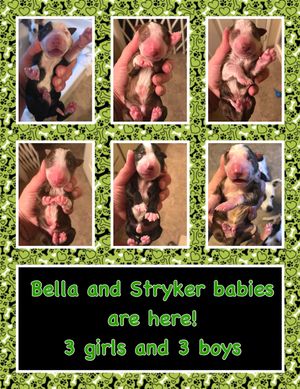 How do we raise our litters?
Here at OffOn Border Collies we place great emphasis on socialization, handling and early exposure to various sights, sounds and experiences when raising a litter. We do the Super Puppy Program (Early Neurological Stimulation) on each one of our puppies from day 3 to 16. Every puppy we raise gets introduced to children, adult dogs, geriatric dogs, birds, chickens/geese and cats. Socialization is key to the continued success of our puppies. We take them to places like Home Depot, Pet Smart, Petco, Walmart, Day Care center owned by a friend of ours, Flyball practice weekly and the airport many times. They also get introduced to elderly people through visits to nursing home, where they learn about wheelchairs and walkers as well as getting great socialization. They are introduced to every surface: ceramic tile, wood flooring, linoleum tile, grass, dirt, tough spun matting, gravel, stairs and lots of uneven rocks to climb on. Our home is very chaotic at times so they get used to the hustle and bustle of everyday living. We talk loud, bang pots and pans, drop bowls, open new trash bags in front of them, play sound CDs and the TV and or radio is on with all sorts of different channels. We run the vacuum, take them out to hear the trash truck noises, have meet and greet at the school bus, and go on daily car rides working up to a round trip of 4 hours. We do day adventure several times after 6 weeks old that will last 6-8 hours while learning to be in a crate for extrended periods of time, go potty in strange places and new sounds, sites and smells. We initiate crate training and walking on leash and collar. We also work food drive, tug drive, and retrieving. We initiate clicker training, crate training, the two toy game and chase recalls. We have a miniature set of agility equipment that they play on daily. Weather permitting, we take them swimming in a friends pool. We have multiple balance discs, wobble boards and giant balance balls that they are introduced to and worked on daily once they are old enough. We have total strangers (to the puppies) come and work them on tugging and recalls three separate times prior to puppy selection time. Our puppies are raised with cedar shavings in a potty box and have found this method raises clean puppies that are proving easy to crate train. On top of the extensive health and temperment testing of our adult breeding dogs, we also very carefully assess each puppy from birth to the time they are chosen for their new homes. Our main priority is placing our puppies in the most wonderful homes possible.

We take weekly photos, sometime more often, so everyone can watch the babies grow. We also take lots of videos and post them to our facebook page, so go check us out!

All OffOn puppies leave here with their first vaccination, microchip, dewormed at 2, 4, 6 and 7.5 weeks, CERF tested, CEA DNA tested (when applicable) and BAER tested. All puppies visit the veterinarian within three days after birth to make sure everything is perfect. They will be seen again at 7 weeks for their health check and vaccines.

All our litters are AKC registered and most are dual registered ABCA and AKC.