Gail Lynch & Fame and Neece
My testimonial could be PAGES long, I see OffOn Border Collies that exemplify temperament and intelligence. OffOn Border Collies are bred to do it all. Whether your activity of choice is agility, herding, flyball, obedience or companion. I have no reservations about recommending one of these fantastic canines.
-Gail Lynch & OffOn An Amazing Legacy "Fame" (Mirage x Sooner) and Neece (Sooner daughter)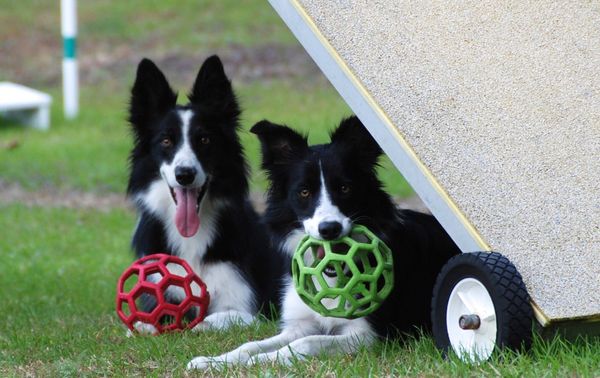 ---
Morgan Hanson & Exact and Creature
Lisa and Mary's breeding programs first caught my eye when I had come across a video of the Jedi x Trep litter when they were just born and I instantly fell in love with the puppies and then dug further into the On Target and OffOn breeding program and fell in love with everything I could find about their dogs.. I followed all of the puppies from the Jedi x Trep litter closely and was amazed with how much was done as they were raised.. They were exposed to so much and went on to be amazing athletes in agility. I was able to meet up with Lisa at USDAA Nationals in 2011 and I met many of her dogs and puppies she produced. I was amazed by the consistency among all of the dogs. They were all die hard workers, had tons of drive and would bend over backwards to please. I knew I had to have a dog from On Target or OffOn in the future.
In early 2013 I wrote Lisa about finally being ready to send a deposit.  I said I wasn't in a rush for a puppy but if a puppy came up that fit I would gladly take that puppy. The Millie x Sooner litter was born in March 2013 and I feel like Lisa and Mary both knew very early on that this was the litter that I would be sticking with! I received many texts in the middle of the night about the puppies being born. As the puppies grew I obsessed and stalked their photos and videos.. I, of course had my favorite but I didn't say a word to anyone. It just so happens my favorite was the puppy Mary and Lisa chose for me. I asked for an insanely high drive, workaholic puppy that was very outgoing. A dog that was social but loved its' owner more than anything. I asked for a puppy that was slightly "soft" in temperament and I got EXACTLY what I asked for. Exact is the perfect dog for me and has been since day one. He was exposed to so much as a young puppy and it was so obvious! I went to Las Vegas to pick up Exact and stayed with Mary and Lisa and got to meet all of their dogs. All of their dogs were well behaved, super social and in great care. Their house was very clean and well kept. When I left Las Vegas I flew to Indianapolis to an agility trial and I was hesitant to take Exact inside the building of the agility trial thinking he maybe overwhelmed since he just flew 2,000 miles and got plopped into a hotel room with dogs and people he didn't know at the time. I decided to take him into the agility trial and I was AMAZED by how unphased he was by everything. He tugged ring side, did clicker work and socialized with people and other puppies. He literally walked around like he owned the place!
Exact still amazes me on a regular basis with his amazing athletic ability and biddability. He is put together beautifully and is such a hard worker that loves everyone and everything. He has an enthusiasm about life that is just simply contagious. I will never be able to repay Mary and Lisa for my perfect puppy. I have been back to Lisa and Mary's home several times since picking up Exact and I am always impressed with the condition of their house and their dogs. There isn't a dog in their house I wouldn't take home with me! They are all outgoing and social dogs with great temperaments. On top of Exact, I now have Creature from On Target's Jedi x Maverick breeding. I am constantly impressed with my dogs from Lisa and Mary and I can honestly say I couldn't have had better experiences with them so far.
Thanks for all that you guys do,
Morgan & OffOn Perfect Odds "Exact' (Millie x Sooner) & On Target's Out Of This World "Creature" (Jedi x Maverick)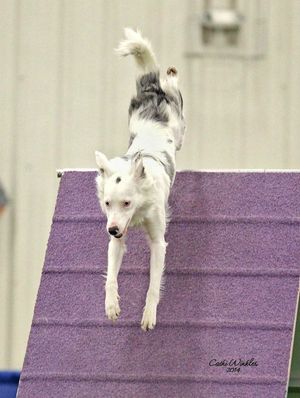 ---
Lisa and Mary came highly recommended  to me from a friend. I just went thru a very emotional time, and thought I was not ready for a pup, but my friends told me that is exactly what I needed and urged me to contact them. I told Lisa about myself and she asked many questions about how I housed my dogs and what activities I did with them ect. I also had to give her at least 3 references. I guess I passed the test. Lisa told me there was a litter on the ground that suited my needs from her roommate Mary Kline from OffOn BC's litter of Shiver x Sooner. I told her temperament, health, structure and drive were all important to me. I also wanted my agility prospect to be able to think thru that drive and be biddable with a good work ethic. Lisa and Mary told me they had just the pup for me. After waiting several weeks, Fringe finally arrived. She has met every expectation and dream. She is everything I asked for and so much more. She always tries and gives me 110% percent, she is so smart and wants to please me. Her work ethic is amazing. She was first born in the litter and this trait still remains. The first out the door, but also she must be the first one in. At night she knows when I am going to bed and must be the first one up the stairs. She is the first in her crate when I leave for the day.
That kind of heart is not an accident, it is bred. Lisa and Mary have a wonderful breeding program, not only that, but the time and love given to each pup is remarkable. Fringe will be 3 soon, she is in Masters in USDAA and my goal is to qualify for the USDAA National in 2013 with her. I will never be able to thank Lisa and Mary enough for my Merle Girl. I also have a very large family of On Target and Off On friends now. We all support each other and cheer each other on. I am truly blessed to be a part of this family.
- Karen & OffOn Live Life On The Edge "Fringe" (Shiver x Sooner)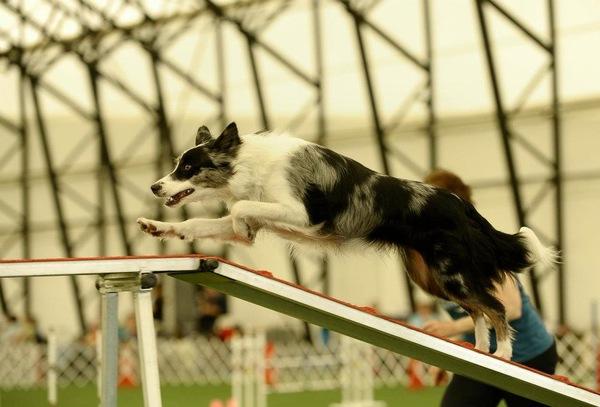 ---
Toni Osojnicki & Motley, Cruezer and Smokin
I have known Mary for at least 20 years now – we started out training and trialing in obedience together, then flyball.  I always admired her Border Collies for their wonderful temperaments and great work ethic. When she finally convinced me that Border Collies are perfect dogs for all the things I was doing (obedience, flyball and agility) – I got Motley from her. She was absolutely right – and I have fallen in love with the breed. Motley was everything I could ask for – great work ethic, wonderful temperament, fast and gorgeous. There was nothing he couldn't do – and yet he's more than willing to just lie at my feet while I'm watching TV or sitting on the computer.
When I was ready for another BC, we bred Motley to one of Mary's females - Shiver. My puppy from that breeding (cruezer) is wonderful - biddable, willing, smart, fun - all I could ask for. 
So when I was ready for another puppy, I naturally turned to Mary who was now living with Lisa. With their combined great knowledge of pedigrees, conformation and breeding - Lisa decided that her dog Envy would make a wonderful match for Motley. She was absolutely right! I fell in love with Envy when I met her - she's a very sweet, gorgeous girl with loads of personality. 
I picked up my puppy from that litter from Lisa in Texas. They were kind enough to let me stay at their house while I was there - so I got to meet all the puppies and dogs. The dogs are family pets, well-mannered and well cared for. Sitting watching TV, I had several cuddled up with me - and Lisa even loaned me a couple of dogs to sleep with that night (I hate sleeping dog-less if I don't have to!).
Smokin has been an amazing puppy - clearly lots of time was spent socializing, playing with and caring for the puppies when they were young. Smokin was (and still is) very well-adjusted, curious, out-going, friendly, attentive and hard-working. The perfect choice for me. 
Toni & Heelalong OffOn A Crue-z "Motley" (Blitz x Trep), OffOn A Motley Crue-z "Cruezer" (Shiver x Motley) & On Target's Smokin' Hot Like Mot "Smokin" (Envy x Motley)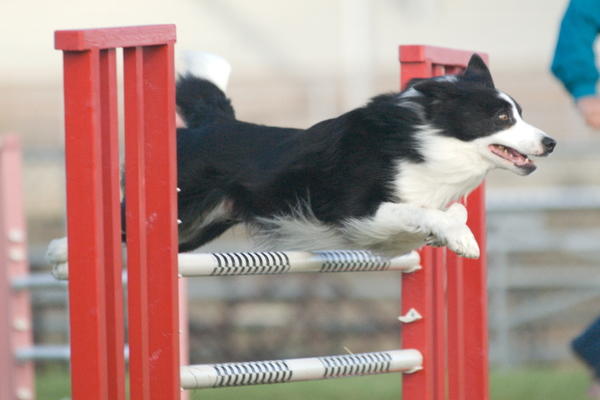 ---